Doing our bit to help reduce our environmental impact
This week is Net Zero Week, a week to highlight the importance of our impact on the planet in everything that we do as a business (this also applies to personal and household responsibility). We have been working hard to try new things, build partnerships and set ourselves goals within our Corporate Plan to help reduce our impact on our planet. Below you can read about some of those impacts from the last few years and future projects.
We are proud to say that we recently won an award, placing in the top 15 for being a sustainable housing provider in the UK.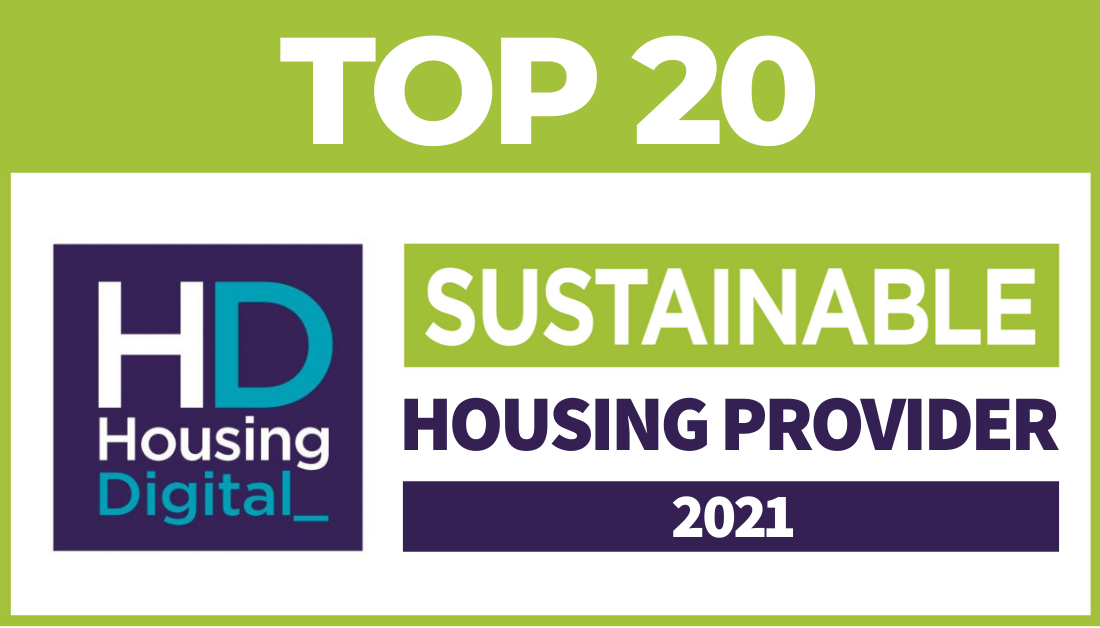 What is Net Zero
Net Zero is where a company will do everything they can to reduce their carbon impact on the planet, but where there are some harder to remove emissions in what they do, they will use 'offsetting' to balance their carbon impact down to zero.
Net Zero differs from carbon neutral, as carbon neutral effectively means you just use offsetting to carbon balance your normal emissions without doing much work to reduce your carbon in the first place.
Why do we need to be Net Zero?
In 2019 the Government was the first major economy in the world to commit to reduce our contribution to climate change. They committed that our nation would reduce our emissions to Net Zero by 2050. That gives us under 30 years to all work together to reduce our impact on the planet.
Why is our sustainability important to us?
At North Devon Homes we take sustainability to mean more than just helping the planet and our green agenda. We are a community landlord and so our sustainability promise goes to our customers as well as our impact on the planet. We work on a number of projects, from eco-friendly heating and builds to improving our carbon offset on our mailings; but we also work with customers to sustain longer tenancies by providing a number of additional support services such as financial resilience advice, youth and independent living support, and specialist service support such as hoarding and mental health. All of this works together to help sustain longer tenancies for customers and therefore reduces our impact on the planet in other non-direct ways such as the moving costs and the impact from refurbishing homes for new tenancies.
Partnership working
We believe that partnership working will go a long way to help reduce the wider impact on the environment. We evidence this with our Advantage South West (ASW) group where 17 housing associations and members across the South West have joined together to help improve their procurement programmes. By working together on sourcing materials, new home schemes, eco projects and even skills and training we can combine and lower the carbon impact for our 250,000 homes between us.
What else have we been doing?
We have run many schemes over the last few years, but most recently, we were the first in the UK to use Tesla Powerwall 2 batteries without solar PV only charged from the grid. This scheme selected 8 properties to have a Tesla battery installation which tops itself up on off-peak tariffs and discharges during the daytime rate. Customers should see them save circa £300 per annum on billing.
We also recently completed a 2-home project to deliver a whole house retrofit. ZEBCat (Zero Energy Buildings Catalyst) aims to reduce energy demand to almost zero, significantly reducing customer bills, whilst providing consistent temperatures all year round. The project demonstrates the EnergieSprong approach to building and is part of a larger project in collaboration with Devon County Council.
In the last few months you may have seen us release our Corporate Plan for the next three years which outlines our plan to work towards our Net Zero targets. We'll do this by building partnerships and completing more projects like those above to help us work together to provide more energy efficient homes for customers.
It's not just our housing that has had a makeover though! Our regular newsletter mailings to customers are now carbon balanced by using a World Land Trust provider with recycled paper, carbon offset inks and printers and eco-friendly sugar cane poly bags that can be recycled in your food waste. We're working hard to implement new digital systems to help us provide more digital and flexible services.
Our team and offices
The pandemic has had a big impact on our environmental impact too and by allowing a more flexible approach to working we are planning to lower our emissions by reviewing when and where meetings should be held in person, where in office and travel working is required, and where home working can be utilised to help reduce each member of the team's impact.
What's to come?
We are currently working with a number of partners on funding, ideas and projects to see where we will go next. As part of our Corporate Plan we have an aim to give all homes in our portfolio a SAP (Standard Assessment Procedure) rating of C or above by 2030, which will go a long way towards our Net Zero promise but will also help to improve our customer's energy bills where their homes currently fall below this rating.